Take a few minutes to immerse yourself in the MICH Experience
This short video takes you through all the aspects of the program, including what and how you will be studying at MICH. Watch till the end to learn one of the secrets to being a great holistic practitioner.
Self-Paced, Mentored and Immersive
Studying at MICH is more than reading information and doing quizzes – it is a guided, mentored and fully integrated holistic experience.
Levels - Foundational Principles to Professional Practice
Our Diploma program is designed to bring you through a journey of learning in real-life situations – each level builds upon the previous to promote a a deep understanding and to equip you with the experience you need to launch your own practice.
Learn the basic training in holistic health and shifting the paradigm of understanding of health and disease
learning essential skills
Learn the essential skills required for naturopathy, homeopathy and holistic practice.
Apply learned techniques and expand upon essential skills learned in Level One.
Essential skills and techniques are honed and practiced under direct supervision of seasoned practitioners.
Courses: Learning, Holistic Integrations & One-on-One Mentorship
Each Level consists of courses designed to promote your learning, integration and experiential practice. Our program includes one-on-one mentorship to ensure that you integrate your learning in the deepest way.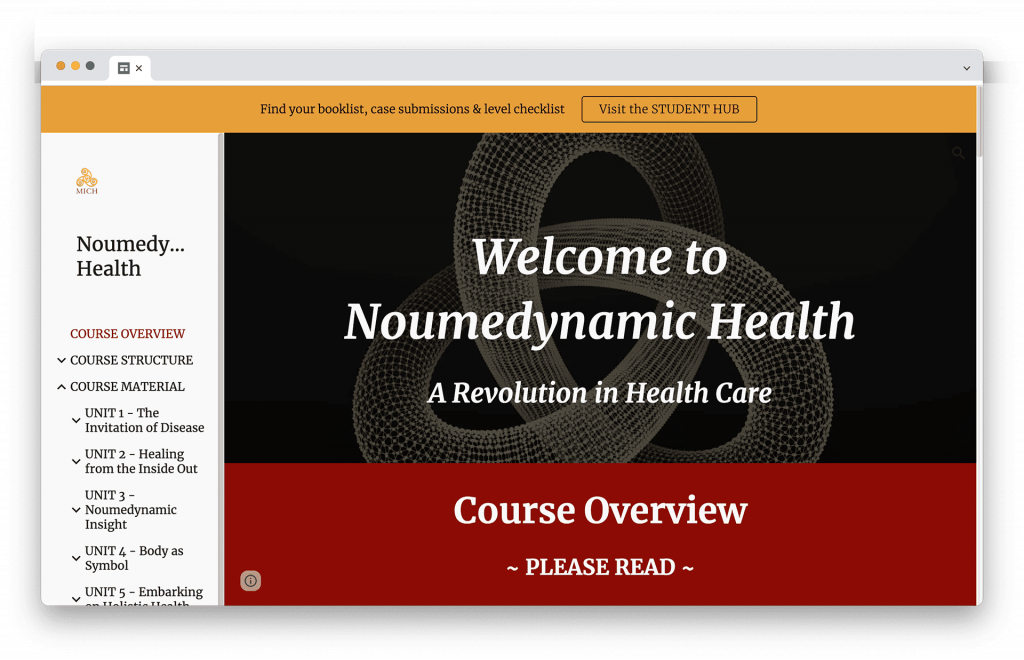 Courses are divided into units, each unit containing audio-visual materials, documents & handouts, holistic integration exercises and quizzes that test your understanding, not your memorization skills. 
One-on-one mentorship is offered within courses and provides you with the opportunity to expand upon what you have learned and experienced.
Each unit of every course provides you with bite-sized activities that facilitate your busy schedule and allows you to self-pace your studies
Our program offers courses that focus on our three diplomas – Naturopathy, Homeopathy and Holistic Practice
You practice the skills you need starting in your Foundation Level
Holistic Nutrition Basics
Watch the video above to find out more about our Naturopathy diploma.
One of the core Naturopathic courses, Holistic Nutrition Basics is presented from a holistic perspective that includes a broader scope of nourishment: the immaterial, energetic and ecological aspects of food and eating.
This course is a pre-requisite to Nutrition in Holistic Practice where you will learn more advanced techniques of applying dietary intervention in chronic cases.
Watch the video above and learn right now how we use homeopathy for First Aid.
First Aid Homeopathy is the first homeopathic course you will take in your first Level of the MICH Diploma program.
You will learn the difference between acute and chronic conditions and, at the end of the course, will be equipped with the knowledge and understanding of how to treat typical first-aid cases. 
You'll get to use and see the power of homeopathy within the first month of the program!
Watch the video above and discover what is Holism.
The pillar of Holistic Practice is an understanding of what holism is and isn't. 
Discover Holism, a course unique to MICH, brings you through a further paradigm shift of Holism. More than a concept, it is a philosophy and a way of practicing. 
Holism answers the questions that science or philosophy alone cannot: questions that are central to life, health and well being both personally and professionally.
Case taking cannot be learned from a book. It is not about information. Case taking must be learned through a step-by-step process, with time to integrate each step which is why you begin your practice in your Foundation Level and continue through to your clinical internship in Level Three.
The individualizing examination of a disease case demands nothing from the medical art practitioner except freedom from bias, healthy senses, attention while observing, and fidelity in recording the image of the disease... determining what is unique in every individual case.
Case taking at MICH is taught experientially, with live one-on-one supervision as well as group practice.
The clinic experience is fully mentored and brings you, as an intern, through the whole process of witnessing, focusing, prescription and follow-up. It is an immersive and real-life experience where you hone and put into practice your acquired skills.
By the time you graduate, you will have been exposed to a wide spectrum of case situations. You will have personal diagnostic, in-depth experience in over 55 cases, and are supported through all the case taking phases by an experienced supervisor.

The MICH program can be considered a Master's level program because it goes beyond what other schools have in their curriculum. MICH incorporates advanced training derived from the latest conferences to provide you with everything you need to be a leading-edge, successful practitioner, as well as continued access to seasoned practitioners for help with the management of difficult chronic cases.

MICH is unique in the quality and quantity of support after you graduate.
Find out more about what our graduates appreciate about Continuing Education at MICH
Holistic Lifestyle, Personal Development, Awareness & Consciousness
MICH encourages you to enter into an inquiry and dialogue about your perceptions of the world, disease, and health...
We encourage you to embark upon your journey to wholeness, to practice what you will facilitate in your clients and practice.
We call this Holistic Integration
Holistic Integration exercises are embedded into every course at MICH. These specially designed exercises facilitate a greater understanding of the human experience and individual uniqueness. They are precious transformational experiences that help you to be able to create an open space for deep, unbiased listening for each client.
The Foundation Level Course, Noumedynamic (new-me-dynamic) Health is just one of many trainings that will bring you through a new understanding of Holistic Lifestyle
Noumedynamic Health is a course unique to MICH, elucidating the revolutionary approach to disease as the dynamic partner of health – essential to supporting a true healing process.
Sample a video from Noumedynamic Health Unit 5
Learn more about Patient Self-Rated Health & the Role of Stress
Continued Sharing of Leading-Edge Research
All of MICH's faculty are practicing homeopaths, naturopaths and holistic practitioners who are always engaged in actively learning and expanding their knowledge. The MICH team shares these learnings with the MICH community of students as part of their Program and graduates as part of Continuing Education. 
Below is one example of what MICH has shared with the MICH community of students and graduates
Visit our Conference and Events page for more.
The MICH experience is a vehicle of holistic learning.
We have been a leading-edge exploration of health, healing and the human embodiment of awareness offering leading-edge courses in the form of professional training for holistic professionals since 2005.
Our courses are based on more than 25 years of holistic clinical practice and research.
Ready to Transform Your Life and embark upon a career in Holistic Health?
Join our growing community of international students.